To add a network printer, go to System Preferences under the Apple menu.
Click the Print and Fax icon

The Print and Fax panel will open and shows any currently configured printers on the left side of the window.
To add a new network printer, click the '+' button below the configured printer list.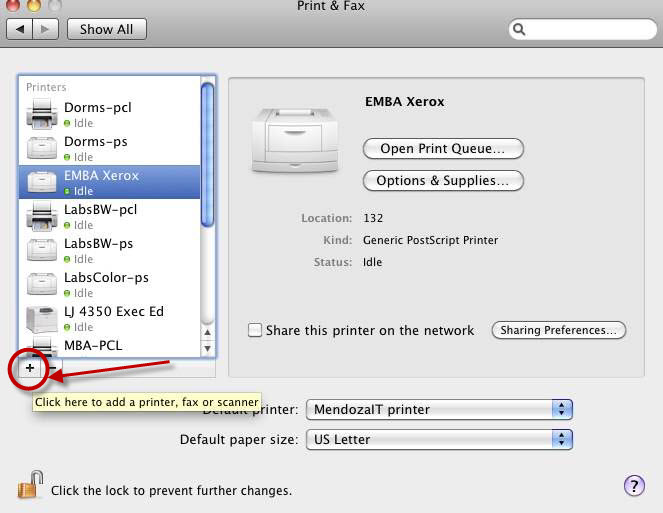 Select the 'IP' tab at the top of the window and enter the details for the desired printer:
Protocol: Should be set to LPD
Address: Host name of printer. As you enter this value, It will instantly tell you if the computer has been able to connect with the printer and reports below this line.
Queue: Leave blank unless necessary (E.g. MBA student print queues)
Name: Give printer a name to identify it (any value you wish)
Location: Give room number etc (any value you wish)
Print Using: This is the print driver. After entering the Host name in the 'Address' field, this will autopopulate. If it is unable to locate a drive, you can attempt to choose a similar driver from the list. If the printer driver is not available, you will first need to install the driver by going to the manufacturers website and downloading and installing the driver.
Click Add. You may be prompted to provide additional installed hardware details for the printer (E.g. Duplex capability). After filling this information in, click the 'Continue' button. The new printer should now appear in the Printers list.
Your printer is ready to use.
To change your system-wide default printer, change the value of 'Default printer' available on the Print & Fax window.